Are you wondering whether New York is now open for construction? Here is a glimpse of what's going on in the construction industry in the city that never sleeps.
Yes, construction has restarted, and renovations can resume in New York. But it will never be the same again; the process has changed drastically.
Businesses in the city reopened in phases. The first phase opened last May 15, 2020, with essential businesses, such as health care operations and manufacturing, following strict protocols. Fortunately, the construction industry has been considered essential in this time of pandemic and allowed to resume activities early during the first phase.  
The guidance provided by the New York officials specifies that construction projects may carry on, but office-based work or that can be performed remotely must continue remotely, to the extent practicable. Employees/personnel who are indirectly involved in in-person work at the business location/construction site are also prohibited.
How did the COVID-19 pandemic change the construction industry?
Although the reopening of the industry is good news, we can never deny the fact that the pandemic has brought so many changes to the work and the construction team involved. 
The construction industry has been tightly regulated ever since. With COVID-19, the rules have gotten stricter to keep both the homeowners and workers safe. Here are some things to consider before starting your project during this time of the pandemic.
1. Health protocols should be rigorously followed.
Unless you want to be fined for not following, you should be keen on the rules. These include the establishment of cleaning/disinfecting protocols and mandatory daily health screening processes. 
Before working, temperature checks should be done for all the personnel. Social distancing should also be maintained whether you are in the elevator or working on-site, and respiratory masks should be worn at all times. When you fail to follow these public health regulations, state and local governments may ask you to pay fines up to $10, 000 for each violation.
2. High material costs and slower project completions may be observed.
There is a shortage of supply. Commercial builders, especially those relying on Chinese-made materials, should expect this one. With the quarantine containment efforts by the government, factories have slowed down or shut down their production. Such a decrease in supply, while the demand remains the same surely, results in increased prices.
Construction materials not only have high costs; changes in their acquisition process may also slow down project completions. You should also not forget the extra time needed to follow health protocols and other legal processes, as well as the quarantine and travel ban. With all of these safety measures, the worker's movement may be limited and can cause delays.
3. COVID-19 has legal implications.
While there are no changes to the permit renewal process and all applicable fees still apply in New York, contractors and owners may be expected to thoroughly review contracts. This is to know their rights and responsibilities given the current situation. Pandemic-specific contract clauses discussing liability during a major health crisis in the future may now be a common thing. Although a pandemic cannot be predicted, contractors may be contractually responsible if there are delays and cost overruns on their projects.
4. Neighbors may be more sensitive than before.
If you are about to start a project soon, you have to inform the neighborhood about upcoming construction activities. Many are now working and studying remotely from home. They may be distracted by ongoing activities. 
If not for the noise caused by construction, others may be concerned about the number of people going in and out of the neighborhood. Be sure to communicate well with residents during building projects.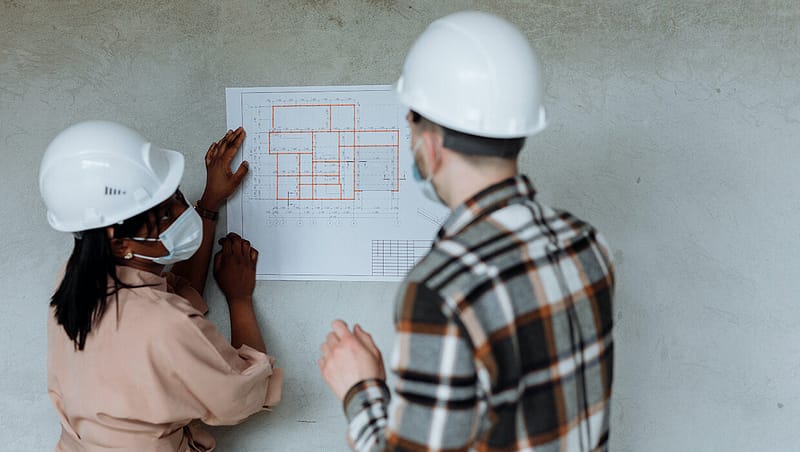 Moving forward
Being home to some of the world's most successful retail, world trade, finance, real estate, and media organizations, the opening of New York is inevitable but with the needed precautions. The construction industry that has helped in the significant growth of the city is getting back to its feet, recovering from what the pandemic has done. However, both contractors and employees should now be mindful of the guidelines on how to conduct construction and renovation works during a pandemic. These are the new realities affecting every area of the construction industry.
If you are looking for a contractor to start your project, contact CooperBuild. For over a decade, Cooperbuild has specialized in exclusive residential and bespoke commercial projects.
References:
"Contractor and Construction Guidance." New York State Energy Research and Development Authority, www.nyserda.ny.gov/ny/COVID-19-Response/Contractor-and-Construction-Guidance. Accessed 22 Jan. 2020.
"Essential Business Guidance Related to Determining Whether a Business Enterprise Is Subject to Workforce Reduction Under Executive Order 202.68, Related to New York's Cluster Action Initiative to Address Covid 19 Hotspots." Empire State Development, esd.ny.gov/ny-cluster-action-initiative-guidance. Accessed 18 Jan. 2020.
"Guidance for Determining Whether a BusinessEnterprise Is Subject to a Workforce Reduction Under Recent Executive Orders." Empire State Development, esd.ny.gov/guidance-executive-order-2026. Accessed 18 Jan. 2020.
"Interim Guidance for Construction Activities During the Covid-19 Public Health Emergency." New York State Department of Health, www.governor.ny.gov/sites/governor.ny.gov/files/atoms/files/ConstructionMasterGuidance.pdf. Accessed 22 Jan. 2020.